Instructor Info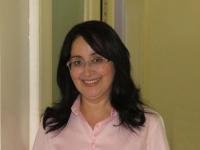 Title:
Psychotherapy - Instructor
Upcoming Courses
No records found...
Testimonials
Showing 10 most recent testimonials
MCKS Pranic Healing® (Level I)

March 26, 2019

Shadin G.
Egypt, Cairo
Biography
Hasmig Karoghlaian met her husband, Haig Chaghalanian, at pranic healing courses. Although they both lived in the same city and belonged to the same community, only Pranic Healing brought them together.
Hasmig has neigh 13 years experience as a Pranic Healing Instructor. Hasmig has a university degree in physics and chemistry. Ever since Hasmig's teen years she was interested in energy healing and searching for ways to relief the pains of people.
Hasmig recorded with her voice the Arabic translation of the GMCKS Meditation CDs to spread GMCKS meditations in the Middle East.
Hasmig moved to Egypt almost three and a half years ago and established along with her husband, Haig, The Source Center.
In 2003 was the first time Hasmig met personally with Grand Master Choa Kok Sui during the opening of GMCKS Arhatic Yoga Ashram and attended the following retreat. This was the first of many occasions later when Hasmig met personally with Master Choa.
Contact
You can find Hasmig Karoghlaian at: