Instructor Info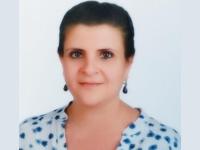 Title:
Basic - Instructor
Upcoming Courses
No records found...
Testimonials
Showing 10 most recent testimonials
MCKS Pranic Healing® (Level I)

June 15, 2021

Yasemin M.
Turkey, Istanbul

MCKS Pranic Healing® (Level I)

April 16, 2021

Ozkan A.
Turkey, Istanbul

MCKS Pranic Healing® (Level I)

April 09, 2021

Dilara B.
Turkey, Istanbul

MCKS Pranic Healing® (Level I)

October 21, 2019

Deniz I.
Turkey, Istanbul

MCKS Pranic Healing® (Level I)

February 18, 2019

Zeynep A.
Turkey, Istanbul

MCKS Pranic Healing® (Level I)

February 02, 2019

Saadet K.
Turkey, Istanbul

MCKS Pranic Healing® (Level I)

March 18, 2018

F. Sevda D.
Turkey, Istanbul

MCKS Pranic Healing® (Level I)

December 14, 2017

Hande Habibe S.
Turkey, Izmir
Biography
Etnik kökeni Azerbaycan, Kafkaslar ve İran'a kadar uzanan Sakine Filiz, şifacı bir annenin çocuğu olarak 29 Mart 1978'de İstanbul'da dünyaya geldi.
1982-83 yılları arasında çocukluğunun kayda değer bir bölümünü paylaştığı "Akut Lenfoid Lösemi - ALL" kan kanseri ile tanıştı. Bu hastalığın ayrıntılı olarak deneyimlediği tedavi yöntemlerinin yanı sıra onda bıraktığı her iz, onun yaşamının her anına dokunan derin bir gülümseyiş ile ona rehberlik etmeye devam ediyor.
Anadolu Üniversitesi-AOF, Halkla İlişkiler ve Tanıtım Bölümü ile İşletme Bölümü mezunudur.
Özel sektörde yirmi yılı aşkın bir süre, idari bölüm yönetici asistanı olarak çalıştı.
Atalarında ve dolayısıyla kendisinde gözlemlediği hikayesinin özünde;
"Hayat bize doğuda, batıda, dün ve bugün,her zaman "aşk" olduğunu ustalıkla hatırlatan ve yolculuğumuza rehberlik eden muazzam bir ışıktır." düşüncesi yer alıyor.
Tasavvuf, şifa, ezoterizm, enerji doğasına ilgisi ve Yüce Yaratıcı'ya hayranlığı, onun içsel çalışmalara eğiliminde birer etkendir.
Bu alana yönelik nefes atölyeleri, sistemik aile konstelasyon atölyeleri, çakralar, meridyenler, renkler, rüyalar, şamanik yolculuklar, insanın en önce kendiyle olan etkili iletişimi ve yaratıcı drama konularında çeşitli workshoplara katılarak eğitimler alan, zaman içinde bu anlamda önce kendisine ve sonra danışanlarına kolaylaştırıcı göreviyle de hizmet eden S.Filiz, araştırmaları sonucunda 2013 yılında öğretmeni Amir Khonsari'nin Pranik Şifa eğitimlerine katılarak sevgili Üstad Choa Kok Sui'nin kadim öğretisi Pranik Şifa ile tanıştı.
Temel Düzey Pranik Şifa eğitmeni ve Yaratıcı Drama eğitmenidir.
Ayrıca kendi web sayfasının da yazarıdır.
"Bir dönüşüm aracı olan insan, mucizevi varlığıyla şifayı mümkün kılan mucizelerden biridir ve hayat mucizeler arasında akar."
------------------------------------------------------------------------------------------------
Sakine Filiz, whose ethnic origin goes back to Azerbaijan, the Caucasus and Iran, was born on March 29, 1978 in Istanbul, as the child of a healer mother.
The treatment methods she experienced in detail with the diagnosis of "Acute Lymphoid Leukemia - ALL" blood cancer, which she had between 1982-83 and shared a significant part of her childhood, that this disease every trace it leaves, continues to guide her with a deep smile that touches every moment of her life.
She is a graduate of Anadolu University-AOF, Department of Public Relations and Publicity and Department of Business Administration.
In the essence of her story, which she observed in her ancestors and therefore in herself;
"Life is a tremendous light that guides the journey, deftly reminding us that there is always "love" in the east, the west, yesterday and today."
Her interest in mysticism, healing, esotericism, energy nature and admiration for the Supreme Creator are factors in her inclination towards inner workings.
S.Filiz, who received various trainings on breathing workshops, systemic family constellations workshops, chakras, meridians, colors, dreams, shamanic journeys, effective communication with oneself and creative drama for this area, and served as a facilitator first to herself and then to her clients in this sense. As a result of her research, she attended Pranic Healing trainings of her teacher Amir Khonsari in 2013 and met Pranic Healing, the ancient teaching of beloved Master Choa Kok Sui.
She is a Basic Level Pranic Healing instructor and Creative Drama instructor.
According to her;
"Human, who is a means of transformation, is one of the miracles that makes healing possible with his miraculous existence; and life flows among miracles."
Contact