Instructor Info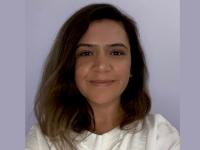 Title:
Basic - Instructor
Upcoming Courses
No records found...
Testimonials
Showing 10 most recent testimonials
MCKS Pranic Healing® (Level I)

June 08, 2021

Gunce T.
Turkey, Izmir

MCKS Pranic Healing® (Level I)

September 15, 2020

Elif Ebru S.
Turkey, Istanbul
Biography
Esra üniversitede Bilgisayar Bilimleri okudu. Somut olandan çok soyut olana merakı ile 2009 yılında yogaya başladı. Yoga eğitmenliğini 2010 yılında tamamladı ve buna ek olarak bir çok workshoplara, meditasyon ve nefes çalışmalarına katıldı. Bir süre yoga dersleri verdi. Kendi bedeni üzerinden ruhunu tanıma yolcuğu onu Hindistan Arambol'e götürdü. Burada iki ay süren yoğun yoga ve meditasyon çalışmalarından sonra farklı spiritüel çalışmalar arayışındayken yakın bir arkadaşı sayesinde Pranik Şifa ile tanıştı.
2011 yılında Amir Hossein Khonsari' den Pranik Şifa eğitimlerini aldı ve Arhatik Yoga yolculuğu başladı. Temas ettiği, deneyimlediği, araştırdığı pek çok teknikten sonra kendine en yakın hissettiği Pranik Şifa ve Arhatik Yoga pratikleri ile arayışına devam ediyor.
Pranik Şifa gibi güçlü şifa teknikleri ile yakınlarına destek oldukça herkesin bu tekniklerle tanışması için Temel Pranik Şifa eğitmeni oldu. Birbirimize bir şekilde kendimizce yardım etmek için varolduğumuza inanan Esra, Pranik Şifa ile kendi yolunu buldu ve sizleri de bu yola davet ediyor.
--------------------------------------------------------------------------------
Esra studied Computer Science at university. She much wonder tangible than intangible, with this interest she started yoga in 2009. She completed yoga teacher training in 2010 and also participated in many workshops, meditations and breathing exercises. She gave yoga classes for a while. Her inner journey took her to Arambol, India. After two months studies of intense yoga and meditation in here, she was looking for different spiritual path. Then she met Pranic Healing thanks to her close friend.
In 2011, she took Pranic Healing trainings from Amir Hossein Khonsari and her Arhatic Yoga journey began. She continues her inner journey with Pranic Healing and Arhatic Yoga practices, which she feels closest to after many techniques she has come into contact with, experienced and researched.
As she supported her relatives with Pranic Healing such a powerful healing techniques, she became Basic Pranic Healing instructor to that everyone could meet these techniques. Her belief that we exist to help each other in our own way, Esra found her own way with Pranic Healing and invites you to this path.
Contact