Instructor Info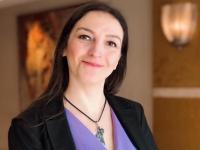 Title:
Basic - Instructor
Upcoming Courses
No records found...
Testimonials
Showing 10 most recent testimonials
MCKS Pranic Healing® (Level I)

March 18, 2018

F. Sevda D.
Turkey, Istanbul
Biography
Burcu Babaç, 1972 yılında Ankara'da doğmuş 1989 yılında İzmir Fen Lisesi, 1995 yılında Ortadoğu Teknik Üniversitesi Elektrik Elektronik Mühendisliği'nden mezun olmuş, Beykent Üniversitesi Klinik Psikoloji yüksek lisansını tamamlamıştır. 18 yıldan daha fazla Ericsson, Sabancı grubu, Oyak grubu, Yıldız Holding ve Turkcell grubuna ait şirketlerde mühendislik, çeşitli kademelerde yöneticilik gibi pek çok görev aldı.
2003 yılından beri reiki ile başlayan kişisel gelişim yolculuğunun devamı olarak, pranik şifa, melek koçluğu, Şema terapisi, Gestalt yaklaşımı, geçmiş yaşam regresyon terapisi, progresyon terapisi, akaşik kayıt okuma eğitimleri aldı.
Pranik şifayla tanışması ile şifalanma yolculuğu daha da derinleşti. O günden beri en temel ruhsal öğretisi olan Üstat Choa Kok Sui tarafından herkesin kolayca uygulayarak mucizevi sonuçlar alacağı şekilde bilimsel ve sistematik bir şekilde geliştirdiği kadim pranik şifa ve arhatik yoga öğretilerinin mutevazi bir öğrencisi ve uygulagıcısı olmaya, temel seviye pranik şifa eğitmeni olarak da bu mucizevi sistemi herkese öğretmeye
sevgiyle devam ediyor.
Aynı zamanda 2015 yılından beri
insan psikolojisi ve ruhsallığını kurumsal tecrübesine dair birikimleriyle harmanladığı teknikler ile bireysel ve kurumsal danışmanlıklar, pranik şifa uygulamaları yapmakta, eğitimler vermektedir.
-------------------------------------------------------------------
Burcu Babaç was born in Ankara in 1972. She graduated from Izmir Science High School in 1989, from Middle East Technical University Electrical and Electronics Engineering in 1995, and completed her master's degree in Clinical Psychology at Beykent University. For more than 18 years, she held many positions from engineer to manager in companies like Ericsson, Sabancı group, Oyak group, Yıldız Holding and Turkcell group.
As a spiritual and personal development of her own starting with reiki since 2003, she received trainings in pranic healing, angel coaching, schema therapy, Gestalt approach, past life regression therapy, progression therapy, akashic record reading, psychic reading etc. With pranic healing, her own healing journey deepened even more. Since then, she has an aim to become a humble student and practitioner of ancient pranic healing and arhatic yoga teachings, which has been scientifically and systematically developed by Master Choa Kok Sui, not only is very simple to make, but also very powerful and miracoluos results. As a basic pranic healing teacher she also continues to teach this technique to everyone with love.
Also since 2015, she provides individual and corporate consultancy, give pranic healing sessions and trainings with the techniques that she blends human psychology and spirituality with her corporate experience.
Contact