Pebble Crystals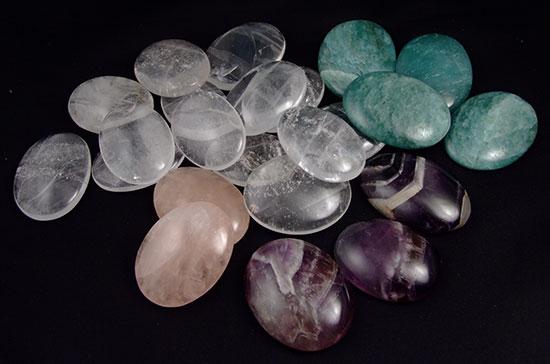 Pebble Crystals good to be used as consecrated crystals which you can put on affected parts and the chakras of the patient.
Stock Status:In Stock
#Gems-000122
Instead of having to do too much work, a healer can simply tell the patient to lie down, and put several consecrated crystals over the affected parts and chakras or all over the body. Instruct the crystals to clean and energize the affected chakras and organs, and also to energize the whole body.

As per Master Choa Kok Sui's instructions, clear quartz crystal, rose quartz crystal, green crystal and amethyst crystal can be used for laying on the patient's body.
Clear quartz crystal, rose quartz crystal and green crystal relatively safer and easier to use. If you want to use crystals with other colors it is better to have a background in MCKS Advanced Pranic Healing.

This beautiful set of crystals contains 14 clear quartz pebbles, 4 green pebbles, 3 amethyst pebbles and 2 rose quartz pebbles.

You will learn how to use consecrated crystals in MCKS Pranic Crystal Healing Course.
Our Price: $100.00
Shipping Costs for this item will be paid by Customers.