Mang Mike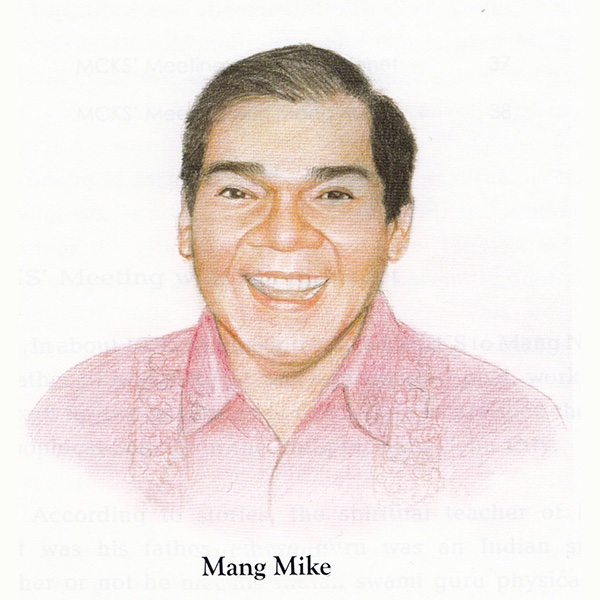 MCKS' meeting with mang Mike
Mang Mike was introduced to MCKS by Samuel in about 1975. MCKS visited mang Mike a few times in Cebu city prior to mang Mike's departure for Iran to work as a master baker. He was a kind and very accommodating person. He was a gentle soul, full of love for others and a good clairvoyant.
Mang Mike was from a super-rich family. His sisters were sent abroad to study, in Spain. Mang Mike's mother forced him to study engineering, against his will. He was not good in mathematics and science so he shifted his study to liberal arts. He graduated with bachelor of liberal arts degree, with honors. His major study was in English. His parents and family were very happy with him. Mang Mike became a good concert pianist and was also a wonderful singer. He was compared to the famous Mario Lanza.
Unfortunately, most of his brothers and sisters were not interested in the family business. When his parents died, their family lost almost everything. This crisis was actually a great blessing in disguise for mang Mike, as it drove him to search for spiritual truth. It drove him into the spiritual path. Mang Mike was also very generous and supportive of his immediate family.
In about 1981, mang Mike was paralyzed due to stroke. He was hospitalized, given proper medication and physical therapy while in the hospital and after being discharged from the hospital.
Later, MCKS visited him in his house in Cebu city where he was still bedridden and unable to walk. MCKS gave him two or three healing treatments using divine energy. After that, mang Mike, recovered rapidly and was able to walk and travel. In about august of that year, mang Mike travelled from Cebu city to Cubao, Quezon City, where he stayed with her sister.
Both mang Nenet and mang Mike later played important roles in Pranic healing and Arhatic Yoga. Mang Dabon also played a very important role in the inner world through guided transferred clairvoyancy during the experiments and provided assistance in healing.
The name of mang Mike's spiritual teacher was holy master Gemaliel.
Mang Mike left his body permanently on 15 February 2003.
Samuel's first meeting with mang Mike
The first time I met mang Mike was through maning in 1971. He introduced me to a group of interesting people which included mang Nenet and mang Mike.
During my interaction with mang Mike in Cebu, he didn't do healing as he was a practicing clairvoyant reader who gave psychic readings.
In the later part of 1971, an interesting event occurred during an afternoon at mang Mike's residence and bakery store. I saw him go into his bedroom. Later, I also went into the room but I could not find him. I noticed that there were subdued sparks of lights in the room. I came out of the room, sat outside and continued my conversation with two of his bakers. I told the bakers that It would have been impossible for mang mike to leave the room without us noticing him because we were sitting just outside the door. They all agreed that it would have been impossible for him to leave the room unnoticed.
Later, during our lively conversation, mang Mike shouted from inside the room, "hey, you guys are very noisy". When I went into his room, I was surprised to see him and asked him where he had gone. He replied that he had been teleported by his master to a room in a hotel in Argentina, to attend a meeting with his master and the rest of his master's disciples. He clarified that he did not teleport himself, but that he was teleported through the power of his teacher.
In about 1975, I consulted mang Mike about my progress in meditation practice. he asked me to meditate regularly and to come and consult with him every three days.
In about 1975, I was discussing with MCKS about mang Mike. I told him that mang Mike was a good clairvoyant. Later that morning, we went to visit mang mike at his bakery. We visited him several times together. Then in 1976, mang Mike left the Philippines for Iran to work as a chief baker. The next time I saw him, he was already in manila, living in Cubao, Quezon city.
Spiritual empowerment or Shaktipat
In 1982, MCKS and I visited mang mike several times in Cubao. On three or four occasions, I observed MCKS giving shaktipat to mang Mike by giving him a pat on the back. At that time, I didn't know that MCKS was giving mang Mike spiritual empowerment. I thought he was experimenting with another from of healing.
In about 1988 or 1989, I visited mang Mike at the Kamuning healing center. Again, on several occasions, I observed MCKS was giving mang Mike a pat on his back while he was meditating. I didn't understand what was happening, because MCKS was very secretive. It was only much later that I understood why MCKS was giving mang Mike shaktipat or spiritual empowerment. It was given to expand his consciousness and improve his clairvoyant faculty. Much later in 1996 in Cebu, MCKS gave me a mild, gentle shaktipat. As the day went on, the expansion of my consciousness gradually increased.
It was until the year of 2005, when MCKS gave me a powerful shaktipat that caused my consciousness to shoot outside the house. I experienced a sequence of brilliant light and dark void, repeating three times. I experienced cosmic consciousness and divine oneness with all. I, the soul, was able to stay in this state for less than a minute. The spiritual experience was overwhelming.
Raphy on uncle Mike and MCKS
In 1970, my family lived together with four other families, in one big family house in Cebu city. I remember my uncle Mike as being a heavy smoker, smoking one ream or carton of cigarettes per day. He was constantly reading thick books, even while he was having a conversation with me.
I spent lots of time with him. I would even fall asleep beside him as he would read me stories. He would frequently send me to buy ice cream- ice cream in the morning, in the afternoon and in the evening. Our favorite flavors were mango and ube.
He also disciplined all of his nephews and nieces and was feared by most of us. He was very generous and he helped pay for our school tuition, sending most of us to school.
Also, as I remember, he did some mathematical computations for the lottery. While doing that, he was almost always smoking. His room was between the sala (living room) and the kitchen, near the refrigerator.
I also remember, that about once per month, there were lots of people gathering in the house. He would talk to them, much like holding a seminar. During weekends, I would always go out and watch movies with him and some of my cousins.
Uncle Mike, his three brothers, two sisters and friends played mahjong every night, especially on Friday and Saturday nights.
In the late 1970's or early 80's, as soon as he received his salary, he would usually ask me to pay for the items he got from the grocery store on credit. Sometimes, he would pay for the food for everyone in the house to help his sister with the household expense.
If we asked him to buy something for us or even if we asked him for cash, as long as we explained the purpose, he would gladly comply. We were usually asking for money for food. Most of the time, he would spend for snacks.
He was working in Foodarama bakeshop at the chief baker and manager. It was a bakeshop connected to a large grocery store. I usually went there in the afternoon, after coming home from school. He would ask me to taste the bread and give me fresh baked bread. He also gave me some bread to take home to the entire family.
In September of 1980, my family and I moved to manila. After that time, I lost contact with him until 1981 when I heard that he had a stroke. Since I was only 13 years old and was in my first year of high school, I was unable to return to Cebu city to see him.
… The first time I saw MCKS was during the school break in 1982. He visited uncle Mike who stayed in the bakeshop during the afternoons. MCKS would buy bread and soft drink from the bakery for snacks for all of us. MCKS and my uncle usually sat at a table in front of the bakery, having snacks and talking. Almost, everyday MCKS went to bakeshop to visit him. Later, uncle Mike moved to Harvard street, the next street across from the bakery, and managed the bakery from his home.
From 1982 until about 1985 (my first year in the university) MCKS began to visiting my uncle almost every day. I went to school at night and took care of my uncle in the morning and afternoon. Every day, from 1 p.m. to 6 p.m., I would see my uncle and MCKS talking and doing some experiments.
Every day, when I went to school at 6 p.m., MCKS would drive me to school. I have many memories of MCKS with my uncle; and sometimes I was also the subject for their experiments. For example, one time, MCKS made a gesture of energizing a big capsule, and then he asked me to take it. He then asked my uncle to observe the effect while I sat in between them. These experiments occurred in the apartment in Harvard street.
Another experiment involved a lighted candle. Asking my uncle to clairvoyantly observe the effect, MCKS dropped the hot wax on my hand. Then, he projected energy and asked if I felt any pain. Of course it was painful at first, but eventually, I didn't feel any pain. Although I saw the skin of my hand turn red, the pain was gone.
During the monthly full moon meditation, MCKS was usually around.
Every time MCKS went to see my uncle, he would send me to buy a large pizza or big Chinese buns. We were always happy when he was with us, because there were always snacks for everybody. Whenever MCKS was around, everyone else would go upstairs to leave the two of them in the sala (living room) to practice meditations and do experiments. This happened every day.
Sometimes we went up at about 12 noon or 1 p.m. and came down at about 6 p.m. MCKS would still be there meditating with my uncle Mike, who would be clairvoyantly monitoring his meditation. This means MCKS had been meditating for about 5 hours.
In about 1986, MCKS asked me to start reading computer print-outs of the Pranic healing book, to see if I could understand what had been written. When I was unable to understand something, he would simplify the words using the simplest terms possible. MCKS mentioned that there was no point in writing a book if it cannot be understood by the common people. In 1987, MCKS published his first book and founded the institute for inner studies, incorporated. MCKS did more experiments. Once at the start of the meditation on twin hearts, he gave me shaktipat or spiritual empowerment on my back. He asked me to sit on a stool facing east. Then, he asked me to relax every muscle in my body. He asked me to relax my shoulders, my eyebrows, my hands, my chicks, my feet, my legs- so that every part was very relaxed. Then suddenly, he hit me on the back between my shoulder blades. I felt helplessly propelled forward. As I slowly recovered, my body was aching everywhere, where it hit the floor. Then he asked me, "Raphy, are you all right?" I respond, "yes", and pretended that nothing felt painful. I didn't know if he was angry with me or what had happened because I was so totally relaxed. I was defenseless, unable to even hold onto the chair or anything.
Much earlier, MCKS did similar experiments with my uncle Mike. He gave him shaktipat, by gently hitting him on the upper back.
In 1987, from Cubao, my uncle moved to Mei Ling healing center in Kamuning. MCKS provided the Mei Ling healing Center for my uncle. However, I regularly visited my uncle at this center where he had MCKS spent most of their time doing healing. Also, during this time, MCKS began holding regular Pranic healing seminars on Saturdays and Sundays.
In late 1988, my uncle moved to project 8 in Quezon City. Then, he moved again in late 1989, this time to Maria Clara street. Again MCKS provide this house for my uncle and once again, I lived with my uncle. MCKS continued visiting my uncle, and they continued doing experiments together, with my uncle clairvoyantly monitoring them. Full moon meditations also continued on a regular monthly basis.
In about 1994, my uncle and I moved to a house on Samat street which was provided by MCKS. We had lots of activities especially during each full moon evening.
When we lived in the house on Samat street, I had to bring my uncle to the hospital so many times. He had difficulty breathing, he had several mild strokes, and he had internal bleeding. Once when he was sitting on the toilet, his helper came to me. He said that there was something wrong with my uncle's face. I saw the common signs, that he was having a stroke. I asked the helper to assist me in lifting him to the bed. It was a scary time because I thought he was going to pass away. We rushed him to the Philippine heart center, but his heart was strong and he survived. Again, MCKS provided money for everything, paying for his hospital bills and all expenses.
The following year, he had another attack, this time, with difficulty in breathing. I asked my wife to go with me in the ambulance. While driving to the hospital, the ambulance hit another car. Suddenly, uncle Mike regained consciousness due to the shake up and we were able to reach the hospital. On this occasion, he instructed me to change some of his personal accounts into joint accounts with me. He wanted to avoid problems when he passed away. He said I had always been there to take care of him and that now, he would be there to take care of me.
Whenever I want to Baguio city, he would always look for me and asked when I would return home. At that time, he knew he would last for only a few more years and he was preparing for it.
Most of this time, MCKS was very busy spreading the teachings in other countries, but when he would eventually return home to the Philippines, he would regularly visit uncle Mike. MCKS and my uncle Mike were very good friends. MCKS was always very kind, helpful and generous to uncle Mike and his immediate family.
In about 2001, we moved to a larger house in Visayas street which was again provided by MCKS.
While MCKS was in India teaching, my uncle Mike left his body permanently on 15 February 2003.