GMCKS Arhatic Yoga Ashram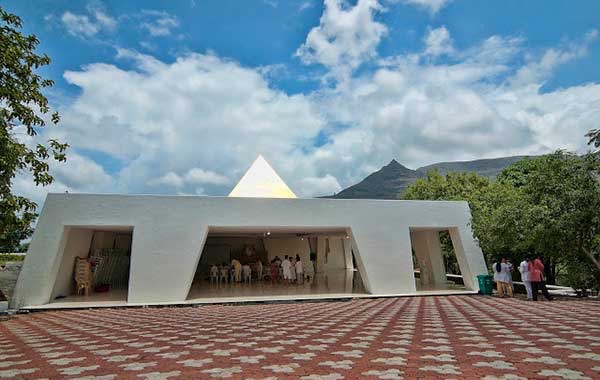 The GMCKS Arhatic Yoga Ashram was Grand Master Choa Kok Sui's Vision and Dream. It holds an important part of his mission to spread the teachings of Pranic Healing and Arhatic Yoga . Master was dedicated to build a beautiful and comfortable Ashram where serious practitioners of Arhatic Yoga from around the world could come and practice intensively.
GMCKS Arhatic Yoga Ashram combines the comforts of home and an exclusive environment where Arhatic Yogis can learn and grow spiritually.
The Ashram is spread over nearly sixty acres of scenic land surrounded by hills and valleys. It is a paradise insulated from the outside world. Situated in a deep gorge valley between the beautiful Mulshi lake and the magnificent natural formations of verdant valleys and hills, Arhatic Yogis from around the world will be rejuvenated by an abundance of fresh prana .
Our beloved teacher carefully selected this location for its special properties conducive to Spiritual Growth. Master Choa Kok Sui designed the meditation halls and living quarters according to Pranic Feng Shui principles for maximum spiritual benefits.
The Administration unit is located at the entrance of the Ashram, ensuring security. It is composed of reception area, classrooms, library, healing room and storage room. The pathways and walkways from the administration Hall connect to the studio apartments and also lead to mini parks, gardens and to the exclusive spiritual area.
An Arhatic Yoga Ashram practice schedule was specially designed by Master Choa Kok Sui to ensure safe and balanced development of Arhatic Yogis when they stay at the Ashram.
The Spiritual Zone consists of 2 large Meditation Halls designed by GMCKS:
The first hall is utilized for the practice of Arhatic Yoga, GMCKS Courses, retreats, spiritual discourses and training programs.
The Second hall is reserved for the practice of Level 3 and higher levels of Arhatic Yoga. The comfortable-sized studio apartments include a spacious room with a verandah, a kitchen and a bathroom with attached open-air area for a lawn or a garden. The fixtures and amenities provide comfort and self-sufficiency.
Ashram Address:
GMCK ARHATIC YOGA ASHRAM
Nive village, Mulshi,
Pune - 411 016,
Maharashtra.

Pune Off Adress:
ARHATIC YOGA ASHRAM MANAGEMENT TRUST, Pune Office
17-18 Orion Apartments, Off University Road, Model Colony,
Pune 411 016

Phone: +91 9922402071 / +91 9146046819
Website: https://www.gmcksashram.org