MCKS Advanced Pranic Healing®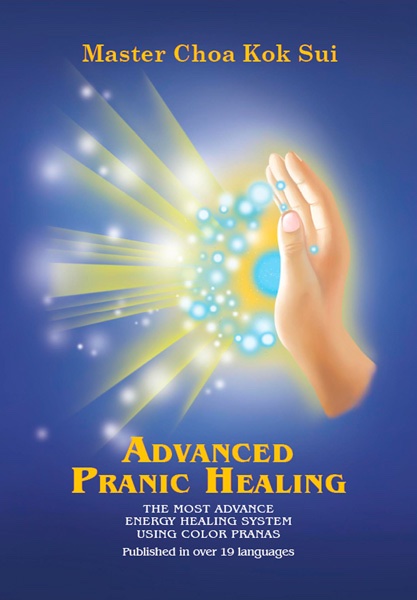 "Color prana is more specialized and more potent than white prana. Using color prana instead of white prana is just like approaching a specialist instead of a general practitioner"
- Master Choa Kok Sui
Advanced Pranic Healing represents a major breakthrough in modern energy healing technology. It contains the most advanced healing system using color Pranas or chi to produce very rapid healing for a broad range of ailments.
After learning the healing techniques in Basic Pranic Healing course, the student now will learn how to use different color pranas, how to combine certain color pranas in order to get faster and more effective results. Certain color pranas can be used to heal certain illnesses, an extensive knowledge in the area will be given.
Many severe ailments can be healed through the application of Advanced Pranic Healing. The difference between Basic Pranic Healing and Advanced Pranic Healing is basically similar to the difference between a General Doctor and a Specialist. White energy can be divided into 7 colors, each having certain properties and effects. Color pranas create a more focused effect on the energy body or Aura.
Advanced Pranic Healing is a specialized course for those who are interested in becoming more effective healers and effectively treating serious ailments using color therapy.
The secrets of different colors in our lives will be revealed and the student will find out how the miracles of good health is available to us all.
Advanced Pranic Healing is predominantly based on the instructions given by Teacher Mei Ling to Master Choa Kok Sui. A lot of clairvoyant investigations and experiments were done. It is also based on Master Choa Kok Sui's and his students' experiments and experiences.
Some of the topics and techniques covered in Advanced Pranic Healing Course are:
Using colour prana to produce very rapid healings.
Use 6 different color pranas (Red, Orange, Yellow, Green, Blue & Violet).
Deeper understanding of the chakras.
Deeper understanding of law of Karma.
Advanced scanning to know the condition, size and movement of thee chakras.
Advanced techniques for Cleansing (General sweeping and Localize sweeping).
Advanced techniques for Energizing.
Localizing the diseased energy.
Rapid disinfecting and disinflaming.
Activating and inhibiting the chakras.
Strengthening weakened parts or organs.
Cleansing the internal organs technique.
Cleansing the blood technique.
Master healing technique.
Super healing technique.
Strengthening the immune system and regeneration of cells.
Preventive healing technique.
Instructive healing.
Mass healing technique.
Learning a powerful meditation - Meditation on Twin Hearts with self Pranic Healing
In Advanced Pranic Healing Course the student will be taught how to heal a wide range of physical ailments like:
Rapid healing of certain conditions like Wounds, Burns, Headaches, Stomach aches and Diarrhea.
Immunity and Defense system, e.g., Lymphatic system, Skin Infections, Eye Infections, Ear Infections, Tonsillitis and Mumps, Respiratory Infections, Gastrointestinal Infections, Liver Infections, Urinary Infections and Venereal Disease.
Disorders of the Eye, Ear and Throat, e.g., Nearsightedness, Farsightedness, Astigmatism, Cross-eyes, Walleyes, Floater, Glaucoma, Cataract, Deafness, Ruptured Eardrum, Glued Ear, Nerve Deafness, Tinnitus, Vertigo, Laryngitis, Mumps and Tonsillitis.
Skin Disorders, e.g., Itch, Eczema or Dermatitis, Mild Pimples, Chronic Severe Pimples, Chronic Boils, Skin Allergy, Psoriasis and Thinning Hair.
Heart and Circulatory ailments, e.g., Circulatory System, Partial Heart Block, Coronary Artery Disease, Irregular Heartbeat or Cardiac Arrhythmias, Inflammation of Heart or rheumatic Heart, Enlarged Heart, Defective Valve, Congenital Heart ailment, Arteriosclerosis or Atherosclerosis, Varicose Veins, Hypertension, Hypotension and Stroke.
Respiratory ailments, e.g., Respiratory System, Chronic Sinusitis, Chronic Cough, Lung Infections: Bronchitis, Influenza, Pneumonia, Tuberculosis, Asthma and Emphysema.
Gastro Intestinal ailments, e.g., Digestive system, Assimilative system, Eliminative system, Difficulty in Swallowing, Vomiting and Diarrhea, Constipation, Abdominal Pain, Indigestion, Gastrointestinal Ulcer, Hemorrhoids, Hernia, High Cholesterol, Gastrointestinal Infections, Acute Appendicitis, Acute Pancreatitis, Gallstones, Hepatitis and Assimilation Problems.
Urinary ailments, e.g., Urinary System, Infections of the Urinary Tube and Bladder, Infection and Inflammation of the Kidney, Kidney Stones, Stimulating Urination and Regeneration the Kidneys.
Reproductive ailments, e.g., Reproductive System, Dysmenorrhea, Irregular Menstruation, No Menstruation, Vulvitis, Vaginitis, Cervicitis, Ovarian Cyst, Myoma, Prolapsed Uterus, Enlarged Prostate, Sexual Impotence, Sterility, Venereal Disease, Pregnant Women, Avoiding Miscarriage, Preventing Miscarriage, Facilitating the birthing process, hastening recovery after giving birth and Birthing at home.
Endocrine ailments, e.g., Endocrine System, Diabetes due to the Body's Inability to make use of Insulin, Pancreatic Diabetes due to Insufficient Insulin, Hyperthyroidism and Ailments of the Endocrine Glands.
Skeletal and Muscular Disorders, e.g., Skeletal and Muscular System, Lower Back Pain, Sciatica and Herniated Disk, Scoliosis, Arthritis or Rheumatism, Inflammation of the Muscles and Tendons, Stiff Neck, Painful Shoulder, Gout, Degenerative Arthritis or Osteoarthritis, Rheumatoid Arthritis, Systemic Lupus Erythematosus, Sports Injuries, Muscle Cramps, Bursitis, Strain, Sprain, Hernia, Torn Tendons and Dislocation.
Blood Disorders, e.g., Blood, Anemia, Acute Allergy, Autoimmune Ailment and Leukemia.
Disorders of The Brain and Nervous System, e.g., Bell's Palsy, Facial Tics, Numbness, Epilepsy, Parkinson's Disease, Encephalitis, Meningitis and Mental Retardation.
Tumors and Cancer Meningitis, e.g., Benign Tumors, Cancer (proper pranic treatment, proper diet, proper emotions, law of forgiveness and law of mercy), Lung Cancer, Breast Cancer, Liver Cancer, Colon Cancer, Brain Cancer and Eye Cancer.
Many more …
MCKS Advanced Pranic Healing course takes 2 days.
Prerequisite: MCKS Pranic Healing course
Note: The courses should be taken in order since each level prepares the base for the later. The instructor himself along with the students practices the techniques while teaching. After every course an internationally accepted attendance certificate is given by Master Choa Kok Sui's Institute for Inner Studies or World Pranic Healing Foundation.
Reviews
Showing 10 most recent testimonials
September 08, 2023

Shelina M.
Kenya, Nairobi

August 30, 2023

Wesam M.
, Dubai

August 14, 2023

Fahad A.
Bahrain, Saar

June 15, 2023

Mindeyeme T.
Togo, Lome

June 12, 2023

Nadia B.
Morocco, Agadir

May 18, 2023

Bhreejita Bhaveet C.
Kenya, Nairobi

March 13, 2023

Semih U.
Turkey, Istanbul

March 09, 2023

Hatice U.
Turkey, Istanbul

February 27, 2023

Elif I.
Turkey, Istanbul

December 28, 2022

Eric Kofi D.
Ghana, Accra